My Favourite Read of 2017
If you follow me on Goodreads, it'll come as no surprise that I've been in the middle of a severe reading slump this year. With a conservative goal of 25 leisure reads (which I didn't meet), reading has been tough. However, I did read a couple of fantastic books. My favourite read of 2017 was We Come Apart by Sarah Crossan and Brian Conaghan.
I found Sarah Crossan through her publicist, who sent me Apple and Rain, The Weight of Water, and One. Apple and Rain and The Weight of Water were really insightful, diverse reads. However, it was One that had me hooked (I reviewed it). If you haven't read it yet, I suggest you do. It is transformative, and will have you rooting for the protagonists right through to the end.
When We Come Apart was released, I couldn't wait to get my hands on it in the hopes that it would be every bit as wonderful as One. While I still think that One is Crossan's best novel, We Come Apart is a close second.
---
We Come Apart by Sarah Crossan and Brian Conaghan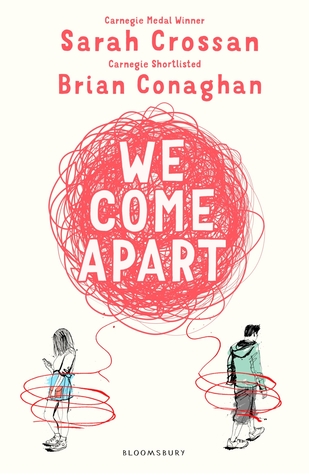 Published: February 9, 2017 (Bloomsbury Childrens).
Description (from Goodreads): From two acclaimed authors comes an emotional story told in verse.
Authors Brian Conaghan and Sarah Crossan have joined forces to tell the story of Nicu and Jess, two troubled teens whose paths cross in the unlikeliest of places.
Nicu has emigrated from Romania and is struggling to find his place in his new home. Meanwhile, Jess's home life is overshadowed by violence. When Nicu and Jess meet, what starts out as friendship grows into romance as the two bond over their painful pasts and hopeful futures. But will they be able to save each other, let alone themselves?
For fans of Una LaMarche's Like No Other, this illuminating story told in dual points of view through vibrant verse will stay with readers long after they've turned the last page.
---
I'm going to be making a concerted effort to read more in 2018 (outside of work reading). Here's to many more great published reads!
What was your favourite read of 2017? How did you do on your Goodreads goal? Please share in the comments!